Weekly Update – 9/8/2018
Sep 8 - TheFeelTrain
Welcome back. It's good to be back. We may have missed the last 3 weekly updates, but we never stopped thinking about you. Yes, you. Specifically. You should feel very special right now. Let's get into some usual weekly update things.
Pls Respond
We are always, always looking for new people to join the Installation 01 Team. Video games don't just develop themselves unfortunately. If you're tired of waiting around for this thing to come out and you have some time, talent, and passion to pour out, shoot us an application. The worst thing that can happen is you get ghosted by us for several months.
Look at this pretty button. You know you want to click it.
Breaking In
It turns out when you click that beautiful button, you end up being featured in the subsequent section of the weekly update. Funny how that works. It's time for us to learn about a couple of new(ish) members of the Installation 01 team. Their hopes, dreams, social security numbers, blood types, and so much more.
DarthDementous
DarthDementous is yet another programmer here to convert food and water into C#. Right now, he's attending university to get a degree with a name that sounds completely made up. He resides in the island of Australia, making it even more impressive that he can do all this while upside down.
acrankyturtle
This turtle, also known as Jared on the weekends, has learned to channel his eternal crankiness directly into the code he writes. We don't know how a turtle with no actual fingers actually even operates a keyboard, but we realized it's better to not ask any questions.
You can click that white Soon Studios button under their names to get a little more insight into the minds of programmers. Or don't. We can't make you do it. But we'd appreciate if you at least gave these two a warm welcome into the loving arms of the Installation 01 community.
343 Industries Community Visit 2018
This week was the pinnacle of 2018. Church (featured in the banner above), Tosh (no picture on file), and TheFeelTrain (the one writing this) were invited out to the lovely city of Seattle by 343 Industries along with an army of other Halo community members to get a deeper insight into the Halo franchise.
While we can't talk about pretty much anything, what we can say is that everyone should be excited for the future of Halo.
We also got to put a lot of names to faces on this trip. All kinds of people from the Halo community from content creators to developers to LAN party hosts to Halo collectors all collided at once to create a cosmic event probably picked up by multiple research and observation centers in the area.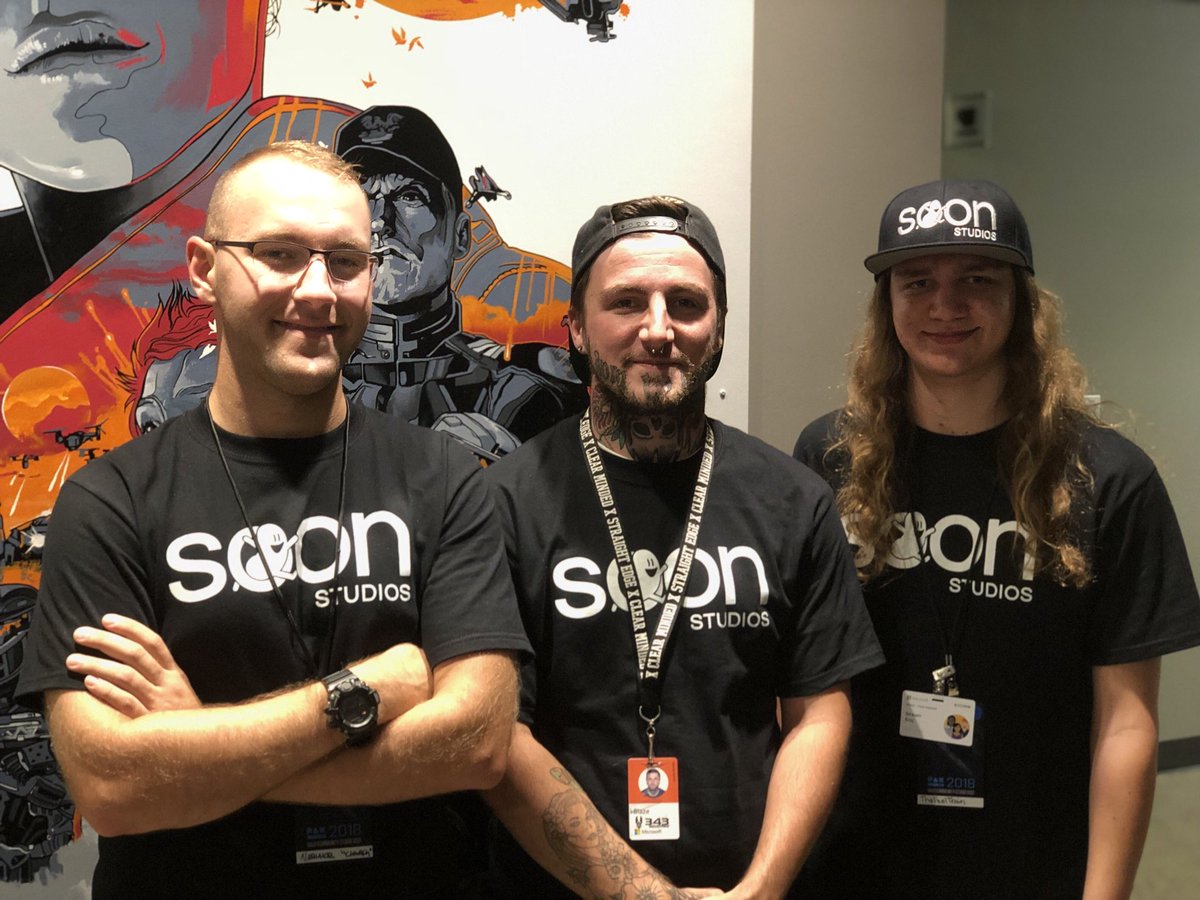 Before you ask, no. The Soon Studios t-shirts (and hat) are not for sale. For now.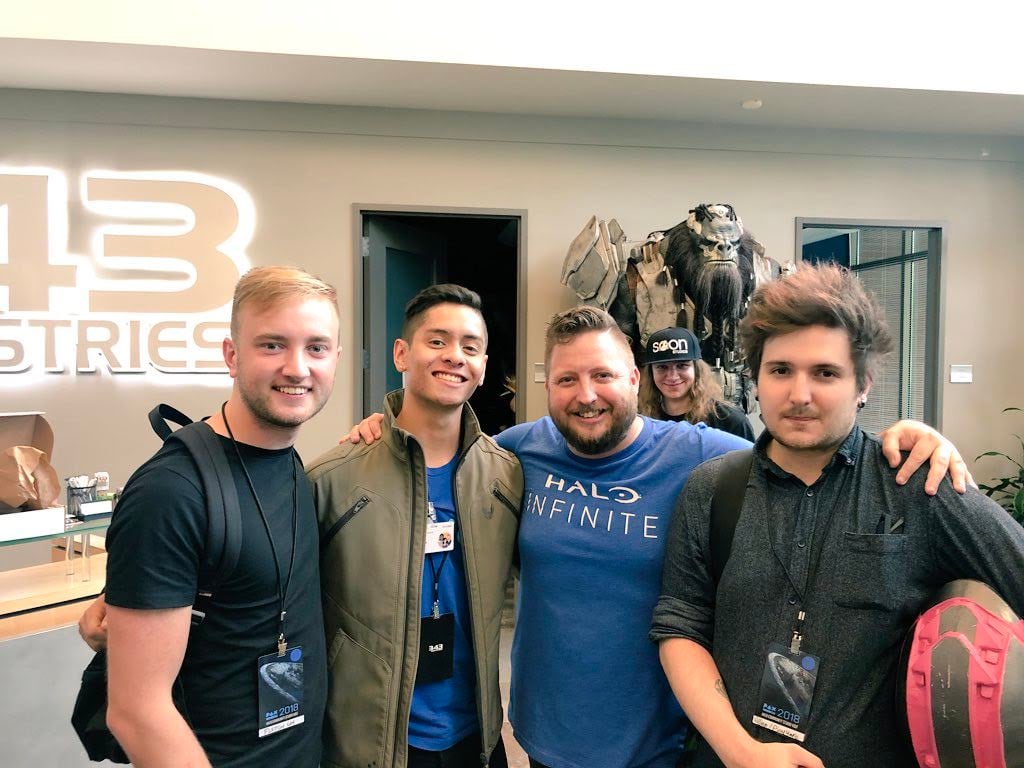 I am personally glad to have met guys like our map designer (and now 343 employee!) Blaze Lightcap, Masterz1337 of SPV3, LateNightGaming of YouTube, Laird of Laird, Sovth, DustStorm of Podtacular, Unikraken of Sins of the Prophets, the Ultimate Halo boys, Wangtime (Pixelflaregfx) and tons of other fantastic Halo fans.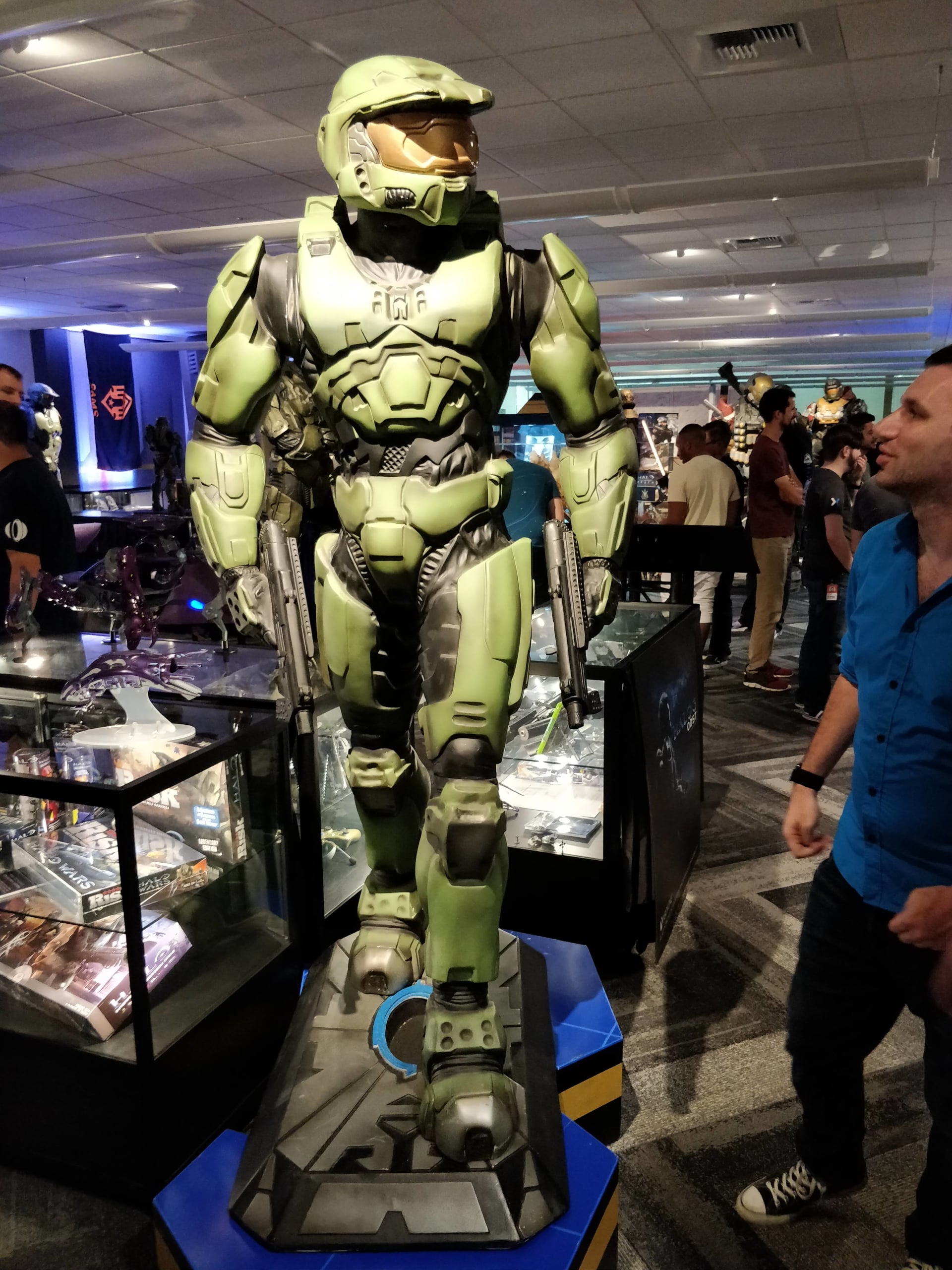 Some said this day would never come. The day where Masterz1337 admires something from Halo 2. And yet, we have photographic evidence.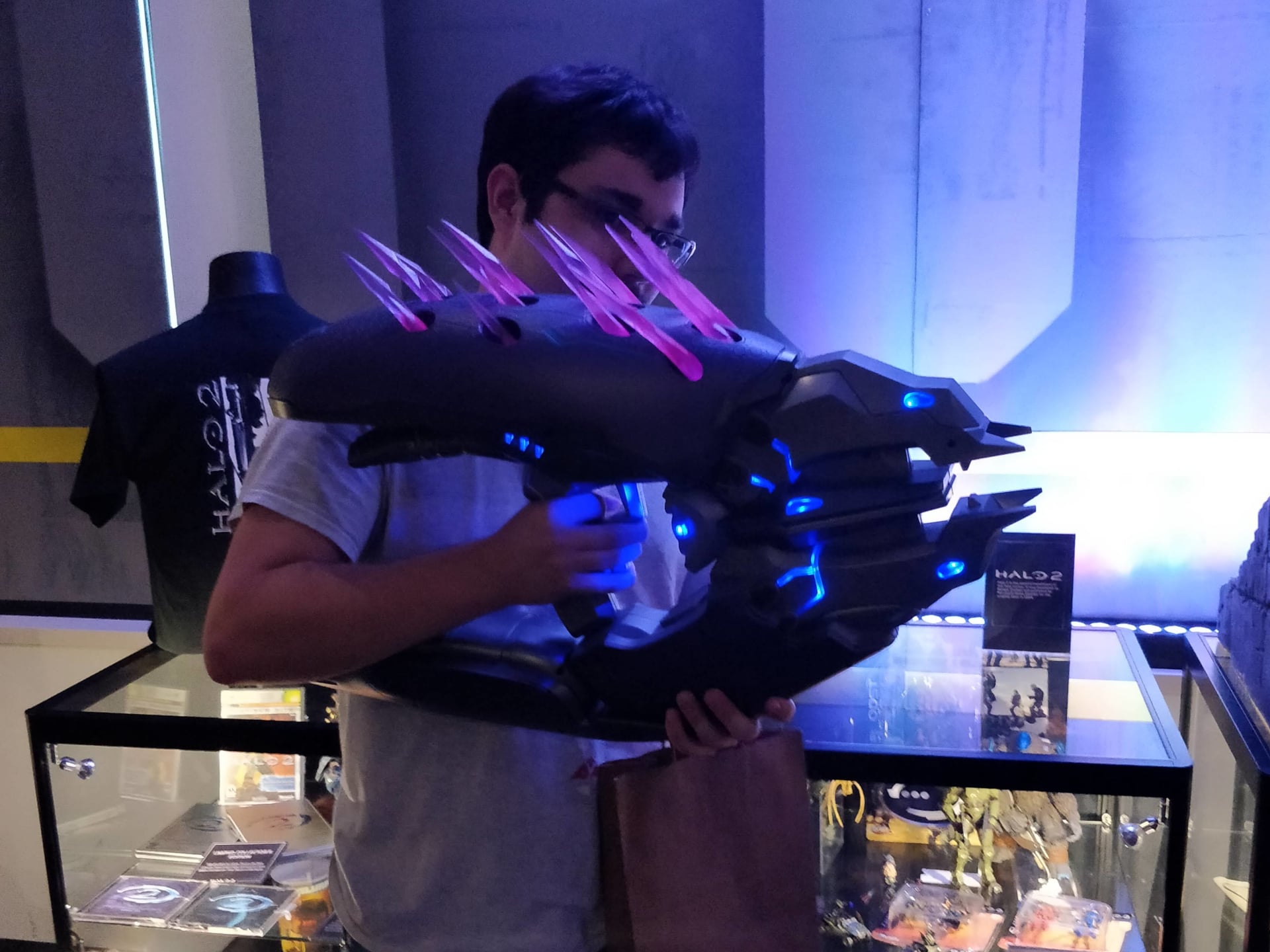 We also have exclusive inside information about the Needler just for you. This may look like a tiny man holding a giant weapon, but look closer. That man is a 7 foot tall super soldier and that Needler is 100% to scale with no exaggeration on the part of myself describing the image.
The last thing you'd expect is for 343 to keep some Dewritos inside of their studio. And yet, here they are. Preserved for eternity inside a glassed case.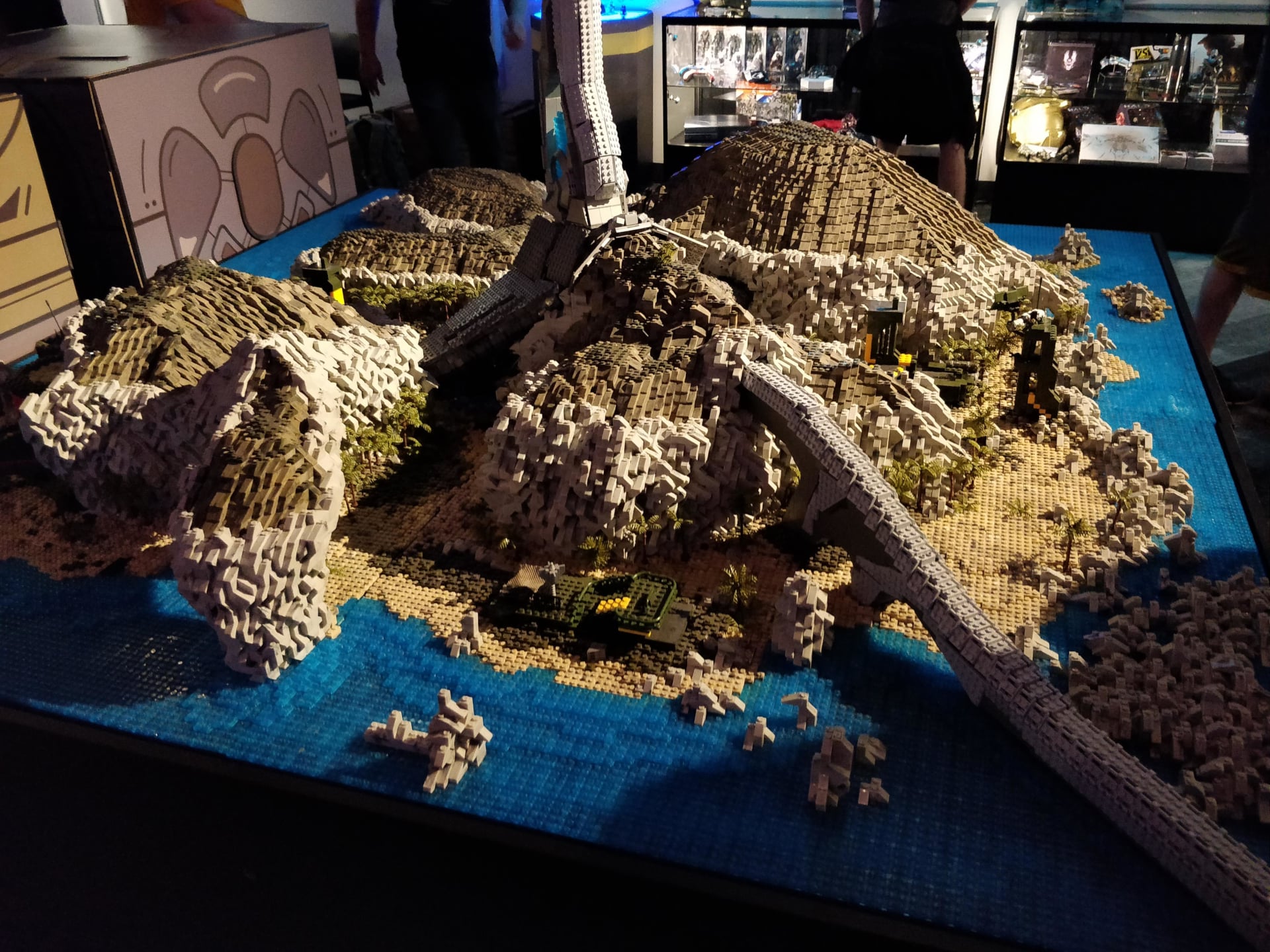 We saw it coming a mile away. Even since Microsoft acquired Minecraft, a crossover was looming. Now we know it's true. I know what you're thinking, "That's not Minecraft that's a Mega Bloks version of that map from Halo 5." Maybe. But maybe not. I was the one who took the photo so I know what I saw.
If you prefer your content in video form, LateNightGaming has a vlog-style video that talks about what it's like to visit 343 Industries and Seattle along with a full walkthrough the infamous Halo Museum.
Blame Bean
Bean doesn't stop things like this from happening. That makes it his fault.
Thanks, Greg.
To end this week, we'd like to say thank you to GrimBrotherOne, Ske7ch, Jessie T, Sparth, Chris Lee, and everyone else at 343 Industries (and Microsoft) for welcoming us into their studio and for continuing the legacy of our favorite franchise. And for not shutting us down just yet. Much appreciated.
Halo is in good hands. Hope to see all of you again next year.
TheFeelTrain