Weekly Update – 8/5/2018
Aug 5 - TheFeelTrain
Welcome to the officially official, 100% on-time Energy Sword Sunday weekly update. We are actually known for how well organized and scheduled our weekly updates are. Pretty sure we're on track to win the "Always On-Time Updates" award for 2018. It's all writing for one and one weekly update for all.
Instant Grams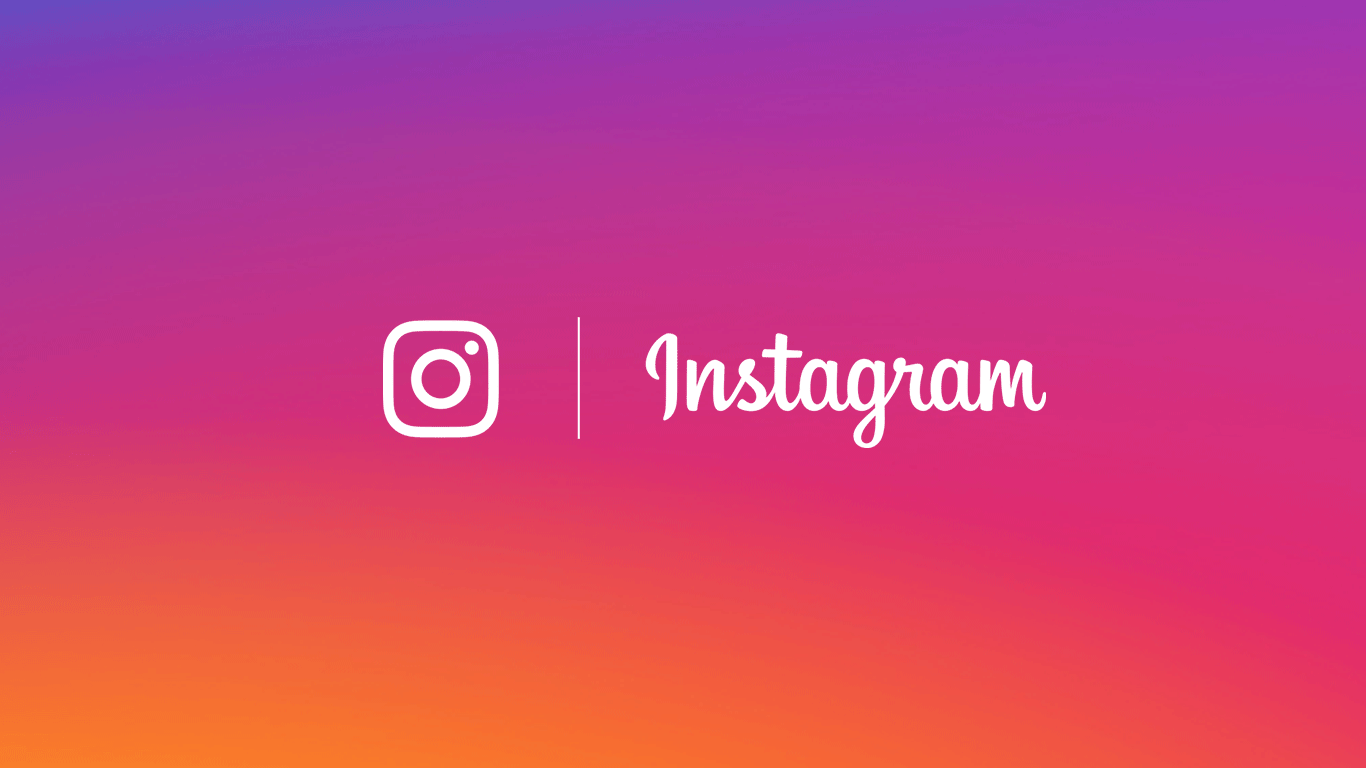 If you'd prefer to see Installation 01 pass by while you scroll through your feed, you're in luck. We have an Instagram account now. Actually, we have two of them. Follow us to open up yet another stream of Installation 01 content directly from your mobile device to your eye holes.
Installation 01 updates and artwork: @installation_01
Claiming the username so nobody else does: @soon_studios
Programmers Make the Game Go Round
You can't have a game without the team. So what better way to get things moving than throwing more programmers into the mix? What could possibly go wrong?
Joshe343
You might recognize Joshua Ozeri. You might have deja vu, almost as if he's been in this place before. He's higher on the street and it's his time to code. Joshe was actually on the Installation 01 team quite some time ago. He's a self-taught programmer who is obsessed with Halo. We're hoping to convert that obsession into pure C# at 100% efficiency. They say it can't be done, but they underestimate my power.
If you think you've got the skills and are already paying your bills then we may have a spot for you on the team. Head on over here to take a look at some roles we're looking for. Not just programmers, but artists and designers as well. Or maybe you're some special snowflake that can do something we haven't listed. In that case, you can shoot us an email at [email protected].
New Order
We don't like to show you unfinished assets. But in this case we're making an exception to show you just how much Aviixe can transform a basic map blockout into a beautiful work of art.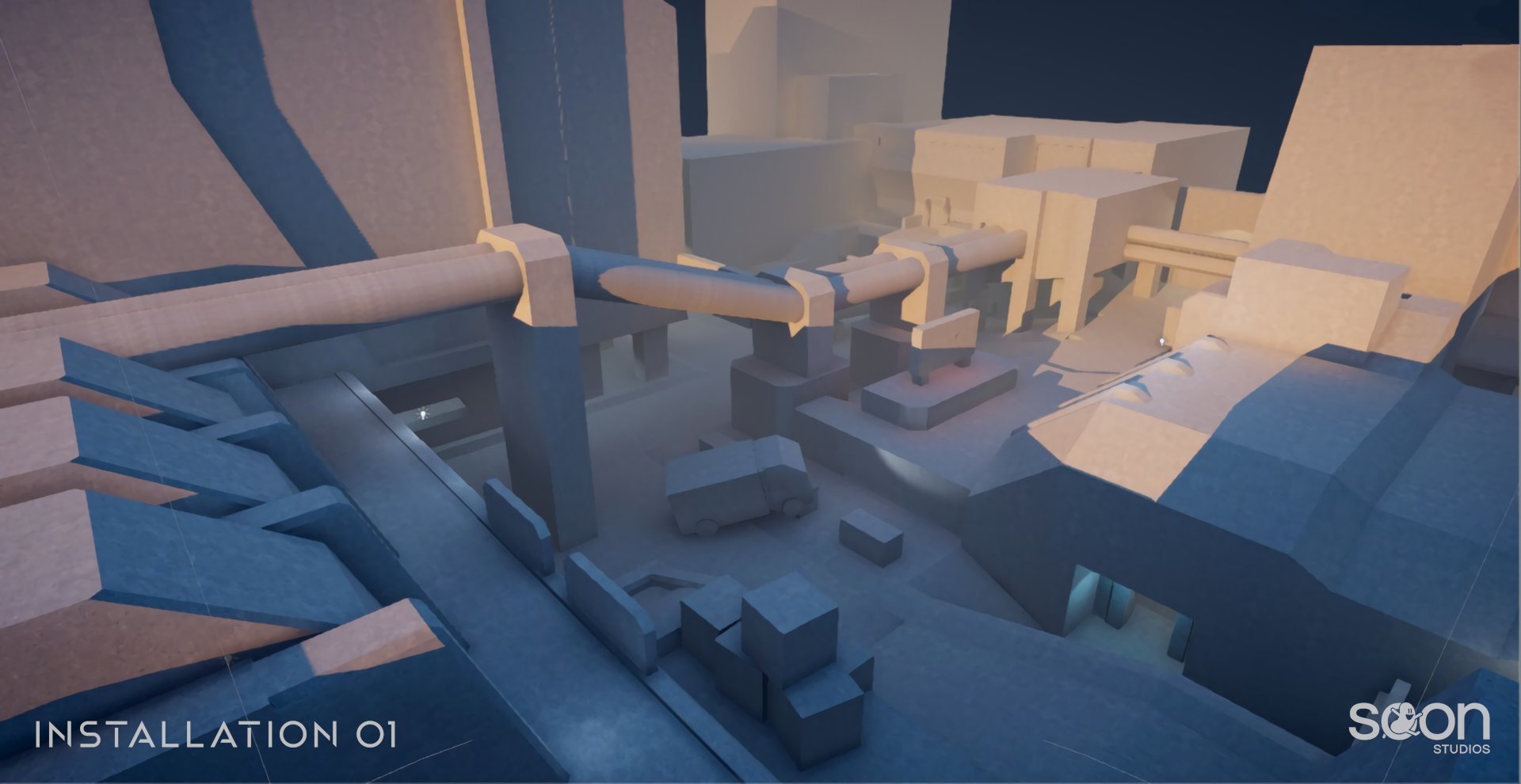 If you've kept up with our YouTube videos, you've probably seen New Order before. It's our take on how New Mombasa can be adapted to multiplayer. I think we speak for everyone when we say we've always wanted a map based on Halo 2 and Halo 3: ODST's sprawling city. Once Installation 01 hits the metaphorical store shelves you'll finally be able to follow your dreams.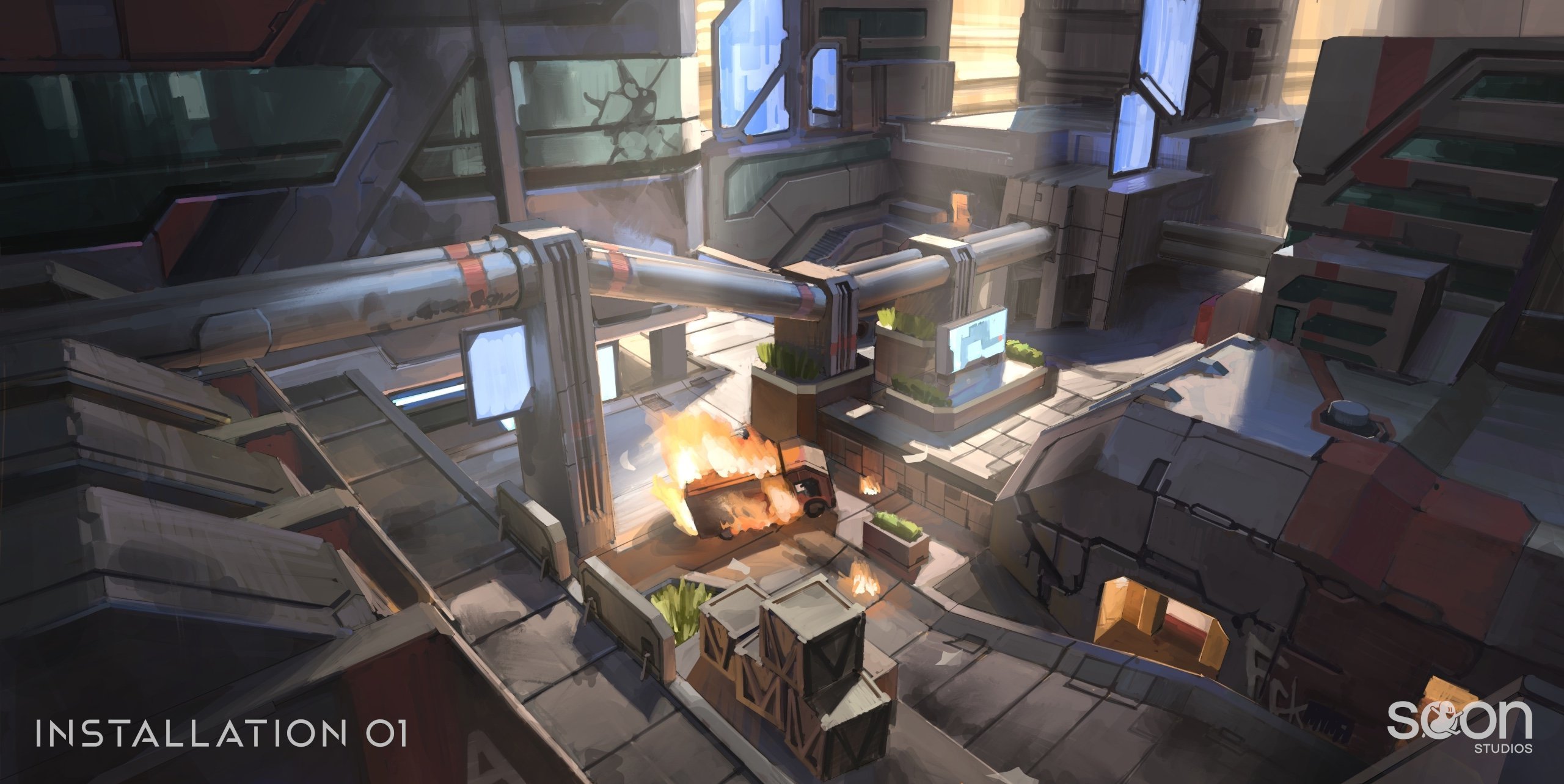 We loved this concept art so much we knew we needed to show it to the world. Aviixe continues to knock it out of the park. Now we just need to get our artists to start building the thing.
Linktacular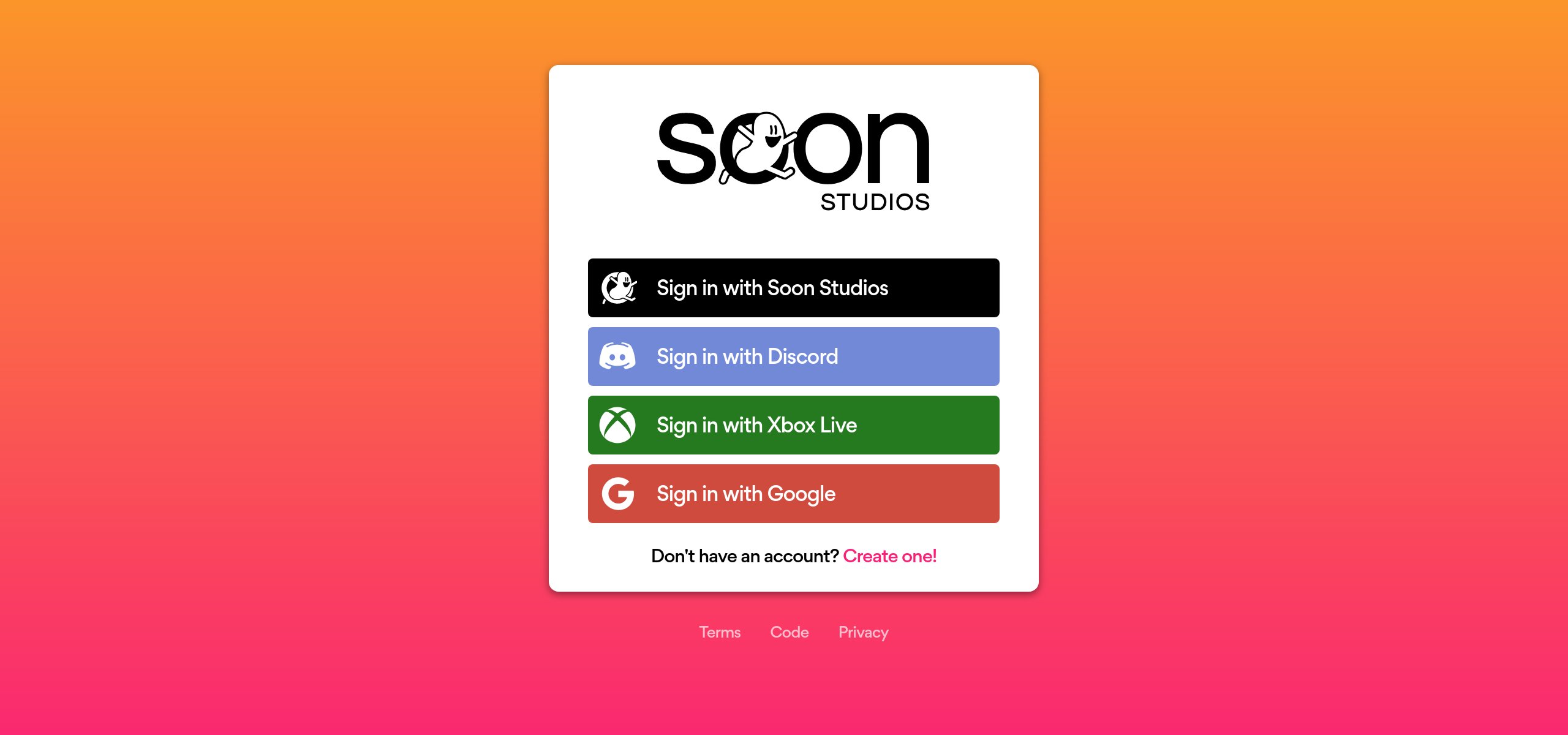 Installation 01 accounts are now also Soon accounts. Think of it like your Microsoft account and your Xbox Live account. If and when Soon Studios releases any games in the future, you can keep the same username and login. And speaking of Xbox Live, you can now link and sign in with both your Discord and Xbox Live accounts. No more Google account required.
You can try it out right now by clicking "Sign in or Sign Up" in the top right corner. Make sure you sign in with Google if you already have an account, then you can link your Discord and Xbox Live over at soonstudios.net. You'll also be able to change your username, email address, and add a regular ol' password in the near future. We'll let you know when those features are available.
Songheili
Besides being the best name given to any song to this date, it also just so happens to be the best song in the Installation 01 original soundtrack. Give it a listen if you missed it. Or listen to it again if you already did. There is no such thing as too much Installation 01 soundtrack.
If you want to dive deep into the mind of Jafet Meza and learn his darkest secrets, you can read the Team Focus interview that Tosh released on Wednesday. Jafet talks about his inspiration for Songheili and the evolution of the Installation 01 and Halo sound.
Blame Bean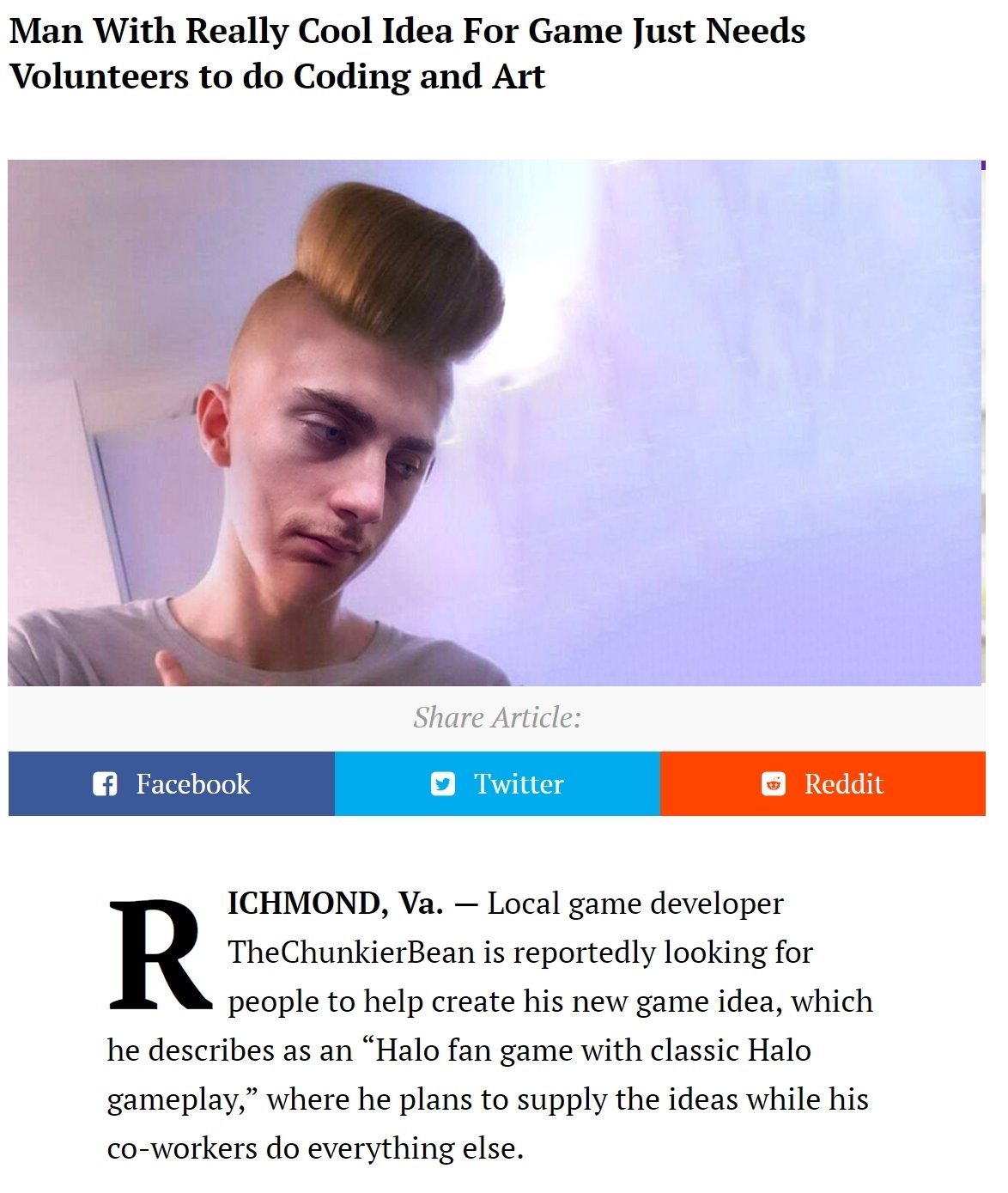 Thanks for making it to the end. If you're reading this, you get 117 free BeanBux to use on loot crates in the Installation 01 alpha. Open enough legendary crates, and you just might have a 0.0001% chance of unlocking the Recon helmet. Come back next week for even more amazing prizes.
TheFeelTrain