New Years Update – 12/31/2019
Dec 31 - Sev
And we're back, hope you all had a very merry Christmas and will have a happy New Year. Recently, as I'm sure most of you know, Halo Reach on the Master Chief Collection for the PC has officially released. This has been an extremely eventful moment for the Halo community and this might leave some of you wondering how this affects Installation 01 considering how the goal of Halo on PC has been fulfilled now. To answer your question in short, it doesn't.
We released a statement earlier this year when the news of the MCC coming to PC was announced, but I think it's important I reaffirm our statement now as well. Our goal was never meant to be a copy of any of the original Halo games. While our intention has been a "classic" style of Halo since the beginning, we've always been looking to bring something new to the table, things that haven't been done before. As a team of what was originally just genuine Halo fans we have the desire to deliver what we believe is something truly Halo, and thanks to you guys, we have the ability to get feedback and work alongside a community as well. So I really hope you guys will stick with us on this journey and see what we have to offer.
Enough about that though, let's get into the update.
Mythic Arena - Halo 5
For anybody who isn't aware, with the announcement of the Winter 2020 Arena Season for Halo 5 came the announcement of the Mythic Arena as well. The idea behind this was to create a hybrid between the newer Halo games and the older games while working with the community. With this new experience comes changes to movement, melee changes, weapon timer changes, and more in order to create that classic Halo feel while still bringing it into the modern era. One of our beloved i01 team members, Blaze, as well as other 343i members helped to coordinate this. Mythic Arena will be available until January 9th and it would mean a lot to us if you guys checked it out.
What's on the Menu?
With the release of the MCC on PC came the ability to mod. So with that in mind we took into consideration something we could do to bring a little bit of that i01 pizzazz to the game. What better way to do that than replace the menu screen with some of our own animated artwork? Probably a lot of better ways, but it's something and it's really cool art. What more can you ask for?
You can find it over here at Nexus Mods.
Getting Hammered
A while ago we showed off the model for our own Gravity Hammer made by one of our team members at the time, Ghost. At that time, even though it was modeled with a lot of care and consideration to our other models, it was glaringly missing some of that classic Installation 01 pizzazz as it wasn't properly textured yet.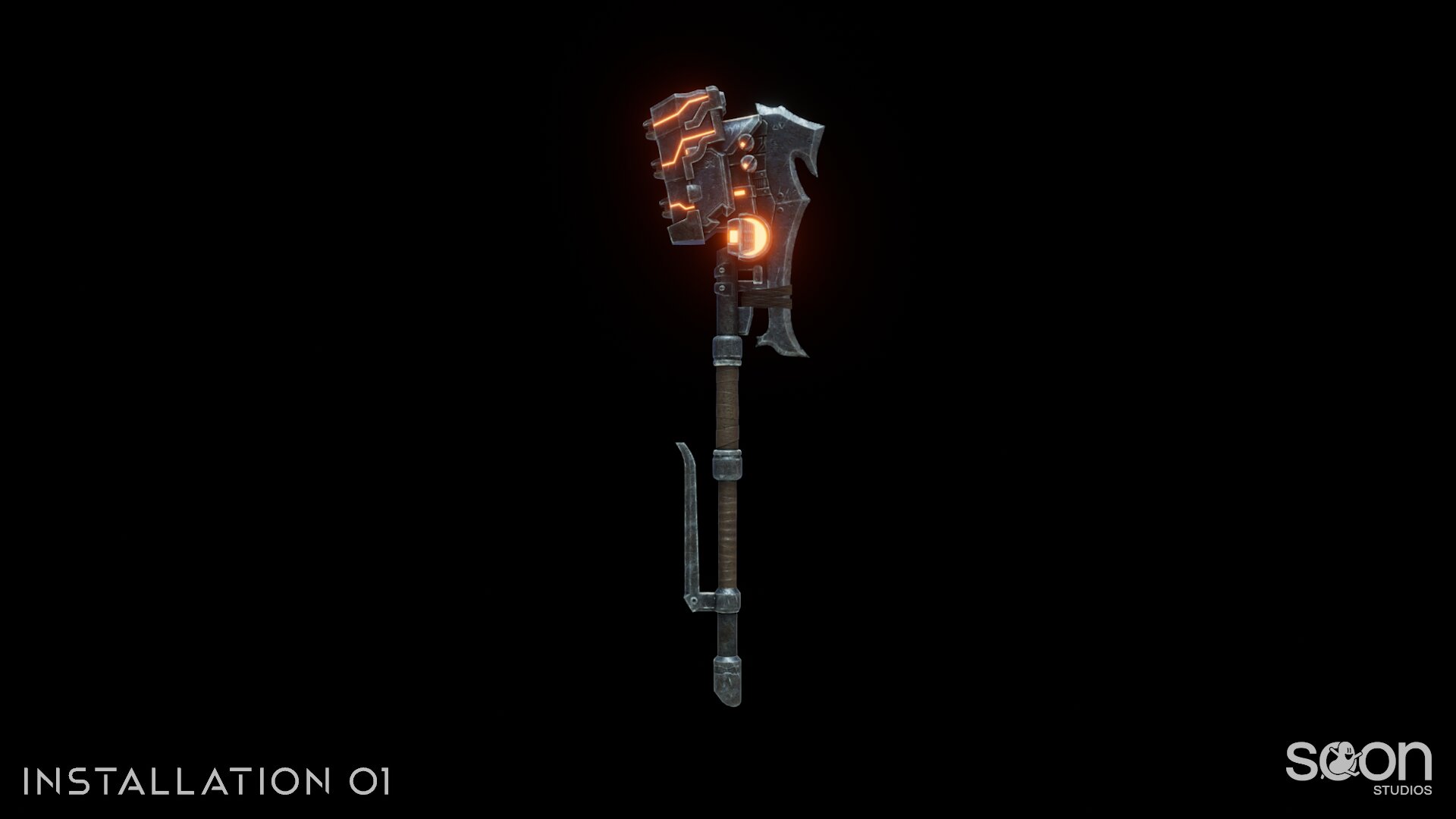 However, now instead of bashing your enemies helmets in with a hammer shaped grey stick, you can do it with something that resembles an actual Gravity Hammer. Thanks to one of our texture artists, Jibrail, we now have a modern and sleeker looking hammer so you can smack people into space with style.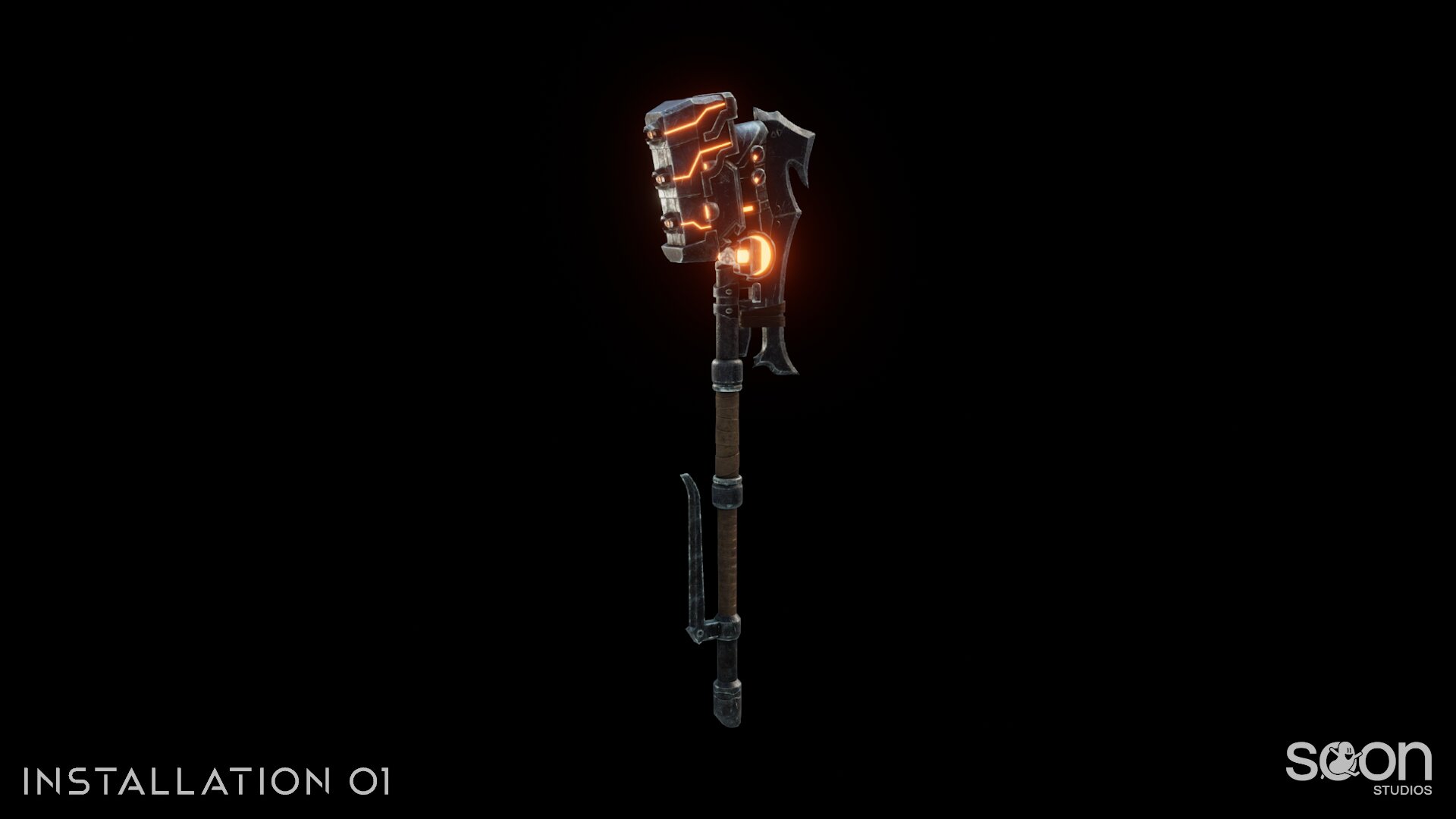 If you look closely, it's easy to see the amount of care and time that went into the texturing of this model in particular. There's scratches all along the blade part of the hammer head as well as along some of the metal parts on the handle.Also one of the most obvious parts,you can see the glow of the neon orange lights which match some of our other weapons of a similar nature and fits one of the themes we were looking for. There were several versions of this texturing job bounced back and forth and it was revisited and reworked a few times before it was finally settled on with something we could all be satisfied with.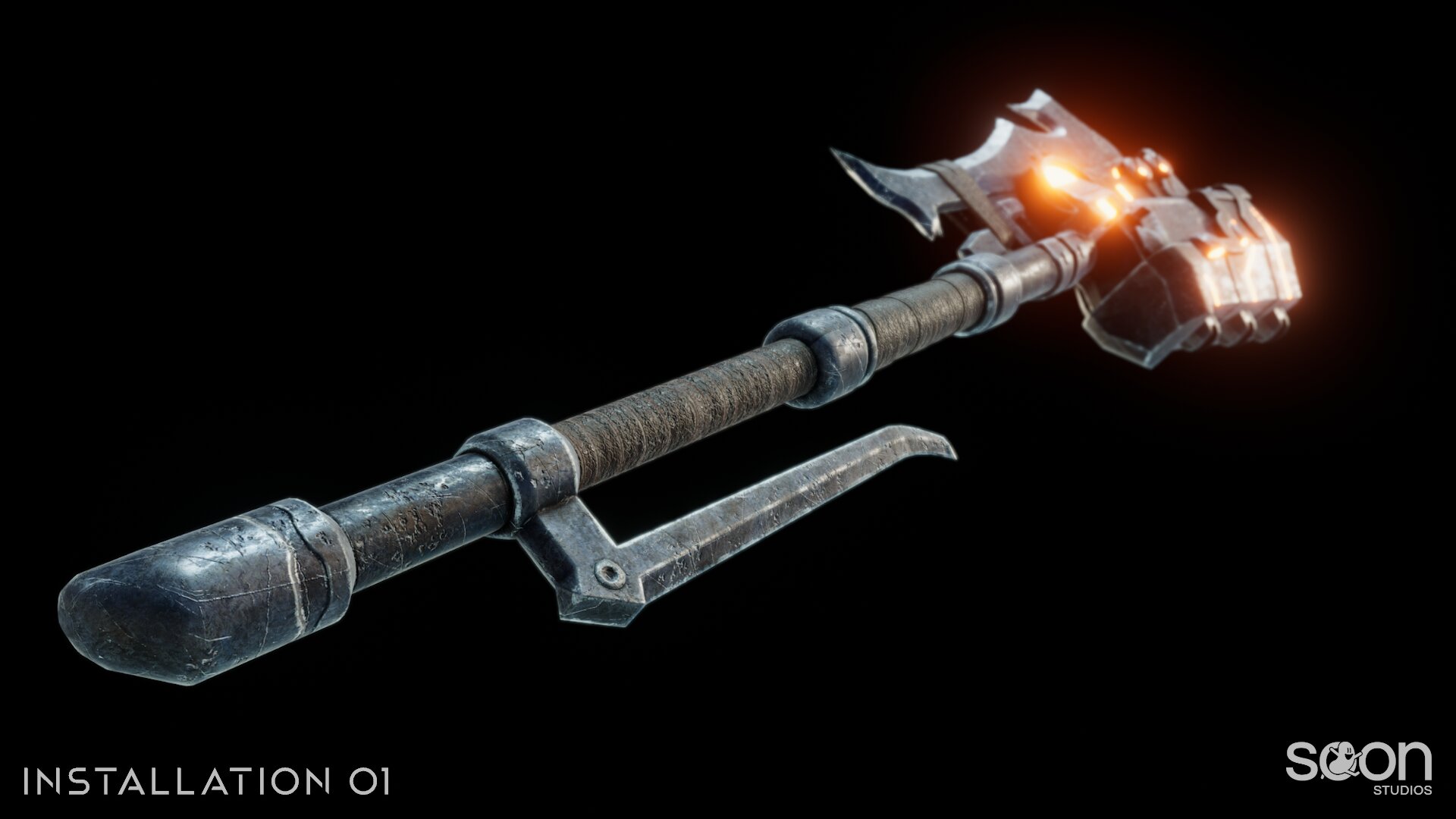 When you get your hands on this in game make sure to take a second and appreciate that gleam before you bathe it in the blood of the opposition.
New Year Old Us
After this update comes out soon after it will be a brand new year, 2020, the year of the rat, a year that we hope will be big for Installation 01. Many people will make promises to change, however we want to do the opposite (for the most part). We want to make the promise that we won't change and we are still doing our utmost to deliver the highest quality we can to this project, and we can't do that without you guys. Please consider joining the team and maybe making some changes for yourself.
Blame Bean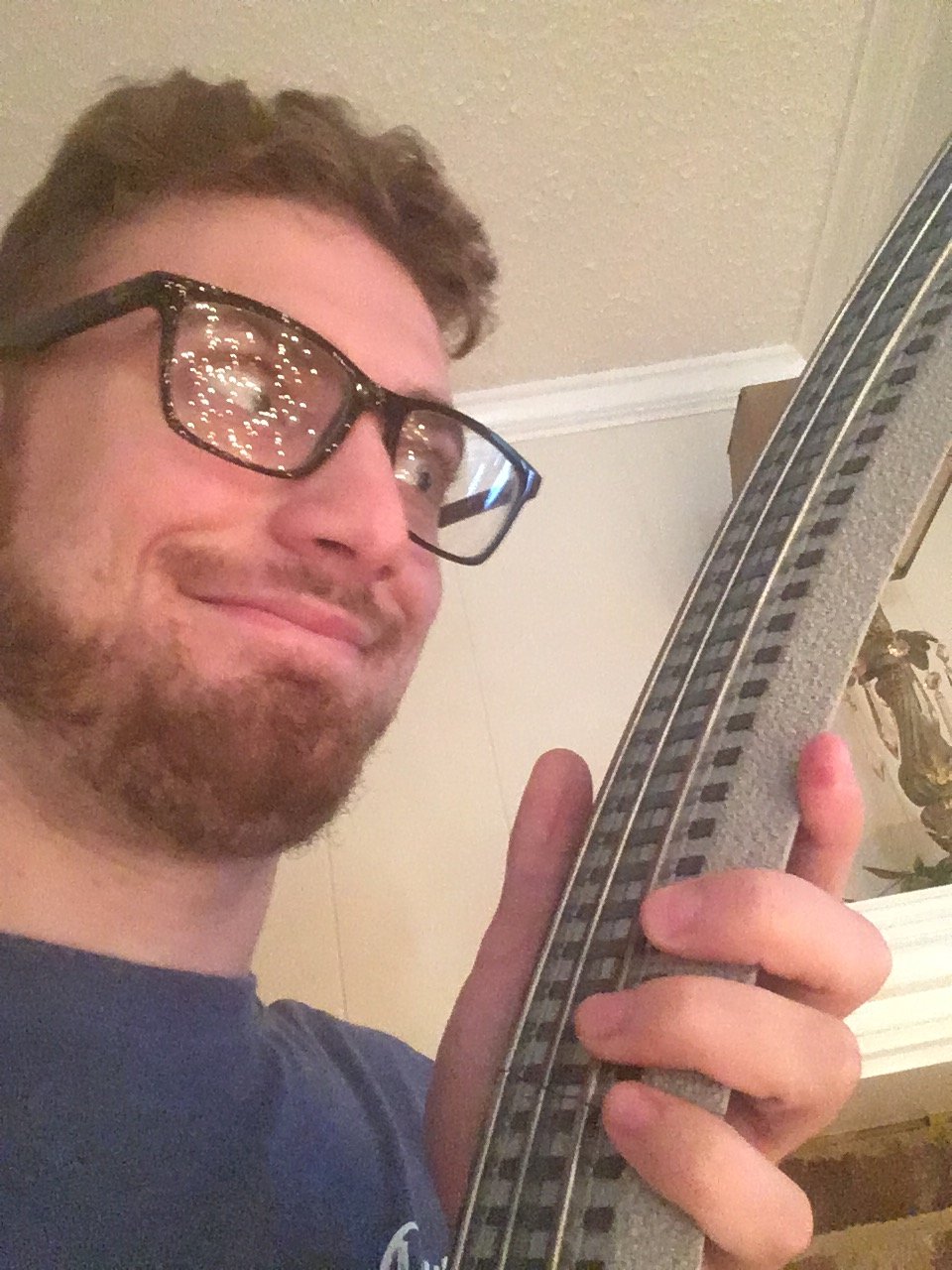 Here we have another iteration of Bean playing one of his classic patented Bean Pranks on the Installation 01 team. This time the unlucky victim was unfortunately TheFeelTrain as you can see Bean stealing part of his track. Poor train was derailed for weeks after this happened and has been recovering, hopefully he can get back on track soon. Please send your prayers.
This marks the end of another year of Installation 01, and another year of progress towards the ultimate goal we set for ourselves. We know that it has been a long ride already, but just bear with us a little bit longer. Here's to big things to come in 2020! Soon™ of course.
Sev